Posted by wheelie on February 20th, 2010
Just got back from a trip to San Francisco and Sacramento, with a short visit to Davis. First time cycling for real in any of these towns.
First, San Francisco. I was somewhat proactive and ordered the bike map published by the SF Bicycle Coalition. It's a great map that shows all of the routes and what kind they are (off road, bike-lane, shared lanes, in handy color coding). The routes are also numerous enough to actually be numbered on the map and on the street signs so you can follow a route as it changes roads. They even use designations like highway numbers, where even routes go east-west while odd ones go north-south. There are ridiculous hills in SF, so the map shows grades as shading on the map. There's even the famous "wiggle" which is a zig-zag route (#30-47) that is the only way to get from the Mission to the Haight without climbing any steep hills, of which there are many in SF. It's so obvious when you're on it, you don't have to look for signs any more since all you have to do is follow the bikes, they're all doing it. It also includes the only bike box I found in the city, which conveniently directs you to a dedicated green-shaded left turn lane on the other side of the intersection. This left lane is needed since the turn is on to a street with multiple lanes of traffic. So nice to be guided along a road where so much thought has been put into what cyclists need. Found only one cycletrack, on a short stretch of Market as it approached the Mission. Prior to that bikes shared a bus lane that had a small barrier to the rest of traffic.
I was impressed by the ability of these things to make me feel welcome, to feel encouraged to explore on a bike. I don't think these lanes were inherently any safer than those in any other city. There were still largely next to parked cars, and the drivers weren't necessarily more accommodating. The other riders were following the lanes, and stopping at lights, although they did run the red once it was safe to do so.
Can we do the same thing here? That was on my mind the whole trip. Almost all of SF is on a grid, and the streets are generally wider than ours. Not by a huge amount. Both of these do make it easier to support bike lanes and to put them parallel but not on the main driving routes. The weather is better there, so bikes are out all year. SF is also a fantastic urban city, with tons of urban vitality and neighborhoods that are not too far apart. There are very few highways and since it's surrounded by water on three sides, it's not surrounded by suburbs. Boston feels like a compressed suburb with pockets of urban areas.
This is not to say there aren't cars, there are tons of them. But it is very slow to drive around. We had my 7 year old nephew with us for two days and he does better being driven around. Me, not so much.
I had heard bad things about Sacramento from a few people, and from the locals as well. It's too bad in a way. It's very flat, not very big, very much a grid, and has good bike lanes all over. The American River has a smooth bike path on both sides that goes for miles and miles and is quite scenic. The city fails in two ways. First, there are elevated highways that seem to be everywhere. Since it's so flat, you can see and hear these highways from everywhere. I couldn't get used to this and can understand why people would move as far away from these as possible, which is difficult. Second, it hasn't attracted or retained the type of young people to generate some kind of urban vitality. We were there for "second Saturday", which is supposed to be an arts festival but was really more of a block party for teenagers. It being the seat of government in the state, there aren't many jobs other than in politics, and California has a budget crisis right now so lots of people are out of work in Sacramento.
Davis won platinum status from the League of American Bicyclists, and as expected, there are lanes, paths, and cyclists everywhere. However, I was left feeling that it's not a good example of what could be done in other cities. First, the cycling infrastructure was built from the ground up by the University. While they deserve praise for doing this, their "citizenship" are largely students who are already predisposed to cycle more than any other population. Plus, they don't have much of a say in any of the planning as do the tax paying long-term citizens of a city. And finally, the city is not very big and not very dense, and has plenty of room on the streets for bike lanes. A friend of a friend said that Davis was a bit of an isolated bike-utopia since its bike accommodations stop very abruptly and it turns very car-dominated like much of California.
It took me a little while to realize what I really liked about Davis. At first I was somewhat surprised that so many of the bikes were of low quality and/or badly maintained. To some extent the same was true in San Francisco. But what I gradually realized was that this was just a sign of a larger ideal – when cycling becomes ubiquitous it becomes totally utilitarian and thus loses any sense of status. In Holland it's the same way – all of their bikes are black, have 1-3 speeds, and their owners think nothing of them. Regrettably, if an when we reach the ideal of lots of people using bikes for all the utilitarian short trips that they currently use their cars for, I'll be tortured by the sounds of crunchy chains and clicking drivetrains!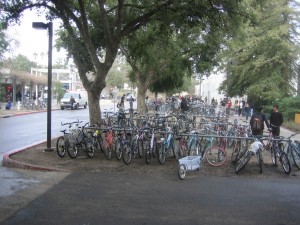 Overall, I highly recommend a trip to any city where cycling is a widely accepted means of getting around, and the city has installed the resources to create and maintain that culture.